1. Country Overview
1. Country Overview
New Zealand is a wonderful education destination for International Students. The peace and tranquillity, the scholarly study environment in Colleges and Universities and the wide choice of subjects to choose from the many Undergraduate, Graduate, Post Graduate and Doctoral Programs make New Zealand a student's haven for acquiring world quality education leading to great career pathways in the future.
New Zealand is located in the Southwest Pacific Ocean and consists of two main Islands as well as a number of smaller ones. The principal Islands are the North and South Islands which are separated by the Cook Strait. North Island has a mountainous center with many hot springs and volcanic peaks. South Island is much more mountainous with the Southern Alps, which has some 350 glaciers, running across the length of the Island. Much of the lowlands are broken and hilly while plains are not prominent on either Island.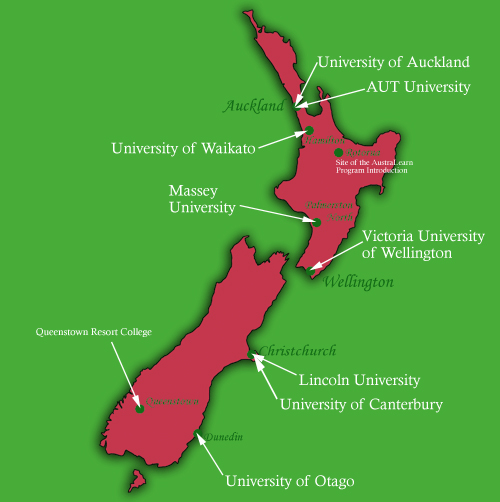 2. Why Study in New Zealand?
2. Why Study in New Zealand?
International Students prefer studying in New Zealand for the following reasons:
• World class learning institutions and worldwide recognition
New Zealand has an international reputation as a provider of quality education. It has a progressive education system with many state of the art facilities. It offers a safe learning environment with excellent study opportunities and support services for international students. New Zealand produces top graduates who can take their place with confidence in the international arena in many disciplines.
• Endless Study Choices
Education in New Zealand offers an attractive and stimulating academic environment. The institutions are diverse in size and location, and offer a wide range of general and specialist courses available for academic, professional and vocational studies at New Zealand institutions – universities, polytechnics and institutes of technology, colleges of education, secondary schools and private training establishments.
• Safe place to study and a high quality lifestyle
According to Global Peace Index (GPI), New Zealand is rated as one of the most peaceful countries in the world. New Zealand does not have high crime rates. Police in New Zealand don't carry guns and Friendly Friendly country, friendly people
New Zealanders are famed for their friendliness, hospitality and warmth to overseas visitors which includes International students.
Stable democratic environment
• New Zealand offers a safe and stable democratic political environment than elsewhere. Instances of corruption are virtually unheard of. There is no have abject poverty or hunger, pollution, congestion, health issues and cramped city living.
3. New Zealand Education System
3. New Zealand Education System
Education System in New Zealand is based on a three-tier model:
• Primary Schools
• Secondary Schools and
• Tertiary Education at universities and/or polytechnics.
For Citizens of New Zealand
The Government of New Zealand has made education free and compulsory for its citizens who are between the ages of 6 and 16. After this stage, Post-compulsory education is regulated within the New Zealand National Qualifications Framework
The New Zealand National Qualifications Framework (NQF)
• NQF is a unified system of national qualifications in schools, vocational education and training institutes located across New Zealand including its provinces.
• It is made up of nationally endorsed standards and qualifications
• NQF standards and qualifications are developed by nationally recognized standard setting bodies (SSBs) and quality assured by the New Zealand Qualifications Authority (NZQA)
• All Qualifications within NQF are divided into levels based on complexity of the skills and knowledge imparted
• The levels do not equate to 'years spent learning' but reflect the content of the qualification.
Academic Year in New Zealand
Though the academic year varies from institute to institute, this in general forms the academic year in New Zealand as mentioned below.
For Primary Schools, Secondary Schools and Polytechnics: From late January until mid-December
For Universities: From late February until mid-November
School Education
Most schools cater for Primary, Intermediate, and Secondary School Students following the age limits mentioned below.
• Years 1–6: Primary School (Ages 5–10)
• Years 7–8: Intermediate School (Ages 11–12)
• Years 9–13: Secondary School (Ages 13–18)
Tertiary Education
Universities
• New Zealand has a total of eight government-funded universities providing Undergraduate and Postgraduate Degree Programs
• These Programs conform to set standards in academic and professional studies
• Subjects are broad in scope and range including subjects such as commerce, science and arts, etc.
• Universities also have specialist subjects such as Engineering, Computer Science, Medicine and Agriculture
• University education from New Zealand is internationally recognized with many Graduates from New Zealand universities embarking on a brilliant career pathway globally.
Polytechnics and Institutes of Technology
• There are 23 government-funded polytechnics and institutes of technology
• Programs offered in these institutions are designed in such a way that they be both academically and vocationally focused
• Some institutions offer Year 1 of a Degree Program, with subsequent years being completed at a university.
Private Tertiary and Training Establishments
• These institutions offer an alternative study option
• Range of Programs offered include Professional Certificates, Diplomas and Degrees
• Diverse range of subjects include: art, hospitality industry, computer studies, secretarial studies, quality management, ecotourism, etc.
4. Costs
4. Costs
Annual Tuition Fees
Bachelors /Diploma Courses: NZ$20000-NZ$25000 per year
Masters Courses: NZ$25125-NZ$30485 per year
PhD Courses: NZ$27000 – NZ$35000 per year
PhD ASA Courses: NZ$27000 – NZ$35000 per year
Living Expenses: Approximately NZ$1250 per month, and depending upon your lifestyle – austere, normal, rich, extravagant or lavish!
5. Student life in New Zealand
5. Student life in New Zealand
Accommodation Types
In many cases, your accommodation will be only minutes from your place of study. Your institution can help you find accommodation before you begin studying.
Halls of residence or student hostels
These are usually located on campus or nearby, with single or twin rooms. Bed linen and cleaning are provided. Meals are eaten in a communal dining hall, with special dietary needs catered for. A warden lives on-site and social and sporting activities are organized for residents. Hostels usually have computer labs and recreation rooms. Some institutions provide self-catering hostels where 6 to 8 students have their own bedrooms and share a kitchen and living room.
Homestay or private board
This gets you a room in a suburban house, usually with a garden and lawns. Your host family provides meals. Interacting with your host family and meeting their neighbours and friends is an excellent way to improve your English. Your host family will help you adjust to life in New Zealand. Homestay is not like living in a hotel. Some 'give and take' is expected, as you become part of the family.
Renting a house or apartment
Renting a house or flat (apartment) on your own or with other people is called 'flatting'. You choose your own flat mates in accommodation, ranging from a two-bedroom apartment to a large house on its own land. Most rental properties are unfurnished, apart from an oven, a laundry, curtains and carpet. A bond of up to 4 weeks' rent is held by Tenancy Services and refunded when you move out, if the flat is still in good condition.
Finding a rental
The accommodation office at your tertiary institution will probably have a notice board with advertisements for flats. Newspaper classifieds list rental properties, especially on Wednesday and Saturdays. There are also several websites that list rental accommodation throughout New Zealand.
Health Care
The New Zealand government requires that all international students in New Zealand have an appropriate medical and travel insurance for their entire duration of study in New Zealand. Students need medical insurance to cover all treatments, including doctors, hospitals, ambulance and specialist students. International students can visit the doctor at the student health centre in their institution to get treatment for a very reasonable fee.
Dental Care
This is not usually included in the Medical Insurance and not provided at the Institution's Student Health Centre. International Students have to visit private dental care practitioners for dental care problems. It is advisable to take a different insurance that covers Dental Care also to avoid huge cost on Dental Care treatment.
No-fault Accident Compensation Scheme
New Zealand provides a no-fault personal injury cover to all its citizens and temporary visitors to New Zealand which includes International Students. This special type of insurance is highly popular as it covers medical and dental treatment, prescribed medications, X-rays, and surgery for injuries caused by accidents by anyone at any place. Due to the wide range of help available after injury under this scheme, no one can be sued for personal injury in New Zealand.
6. Application Procedure
6. Application Procedure
Intakes
The academic year is from mid / late February to early November of every year. Most universities have 2 semesters with a holiday of 4 weeks in June. It is quite common to see that different universities have different dates in their Intake months. Some universities also offer summer school in the main holiday period. Intakes are also offered in February, and July and sometimes even in September by a few universities.
Meeting English Language Requirements
• All students must be fluent in English language
• There are many courses available at public and private institutions in New Zealand and elsewhere to assist international students reach the required level of English language competence
• SIEC Education can recommended waiver of IELTS /TOEFL wherever possible though we strongly suggest that you give your IELTS/TOEFL before applying to the university of your choice in New Zealand and before applying for your New Zealand Student Visa
• A band score of 6.0 – 6.5 in IELTS for Undergraduate course is needed.
• A band score of 6.5 – 7.5 in IELTS for Postgraduate courses is needed.
Documents Required
Resume, Statement of Purpose, Mark-sheets and Certificates of Class X, XII, till Graduation or relevant Degree transcripts in specific cases, Certificates of Extra-curricular activities, passport copy, birth certificate and 2 reference letters from colleges (for students) and 2 reference letters from employers (for working students).
The Process
The academic year is from mid / late February to early November and most Universities have 2 semesters with a holiday of 4 weeks in June. Each University operates slightly different dates and some also offer summer school in the main holiday period in November to February. Intakes are in February, July and sometimes in September.
7. Visa guideline
7. Visa guideline
The visa processing time for applications is 21 to 25 days. During this process embassy may contact to ask for any further information if required.
Required Document for visa
Appropriate Visa Fee
Two passport-sized colour photographs.
Original Passport
Visa Application Forms, Complete & Signed
Statement of Purpose – Handwritten and up to the point
IELTS/TOEFL Score Card
All academic documents (certified true copies – Notary Attested)
Evidence of liquid funds and ITR returns
Police Clearance Certificate
Medicals chest X-ray certificates from the list of Panel Doctors
An offer of place from a approved New Zealand education provider
An offer of place from a New Zealand education provider that meets the requirements set out at www.immigration.govt.nz/ offerofplace, or A Confirmation of Enrolment if you are a student returning to the same provider and studying the same programme
Evidence that your tuition fees:

Have been paid or are covered by a foreign government loan, or
Will be paid by your home country government or
Evidence that you are exempt from tuition fees, or
you are applying from outside New Zealand, evidence that you/your family have sufficient funds to pay your tuition fees after your visa application is approved in principle.
Visa Application Fees:
To find out how much the fee is and where to send your application, use our office and fees finder at www.immigration.govt.nz/fees.
Post-Visa Success: Things to do
Upon approval of visa in principle, you must pay 1 yrs fees (if loan is availed, pay from loan a/c), t the university concerned
After sending the Payment receipt to the High Commission, the student's passport will be stamped and returned back.
English Language Requirement:
It is strongly recommended to give IELTS although it is not mandatory.
8. Work Permits for Students
8. Work Permits for Students
Employment – during study
• International students enrolled in a tertiary programme of study are eligible to work up to 20 hours per week during the academic year
• Students can work full time (40 hrs) in New Zealand only during the summer holidays
• Average wage for part time jobs is between NZ$10 – NZ$12 per hour
• Eligible student's partner may apply for a work permit too, valid for the duration of the study course.
Post Study Work Visa (Employment – after study)
This is Graduate Job Search Visa of one year which allows international students who have graduated with NZ qualification to apply for this post study work visa. Upon finding employment during this period student can apply for NZ immigration to have this work visa extended for 2 more years.
There is no requirement of job offer for this Graduate Job search visa. Student can apply for this visa within 3 month of completion of study or can take 6 month if have obtained PhD.
Multiple Post Study Work Visa
After completion of first Post-study work visa (open), if student complete a second or higher qualification which is either a New Zealand bachelor degree or post-graduate qualification for at least one year then there is another opportunity for student to obtain second Post-study work visa (open).
To apply for PSW student must have at least NZ$4,200 available to manage living cost in NZ.
Minimum Qualification Requirement for PSW of NZ
Two qualifications that each require at least one academic year, at level 4 to 6 on the New Zealand Qualification Framework
One year qualification at level 7 on the New Zealand Qualification Framework
9. Frequently Asked Questions
9. Frequently Asked Questions